Keeping it simple: paper, pen & ink
When I started illustrating, one of the first mediums I was drawn to (pardon the pun :)) experiment with was pen and ink. There is something so classic about black and white, and the intensity and energy of black strokes on paper; I love it. Probably the most basic way of working with pen and ink is the humble dip pen. It is also the most inexpensive start to trying out a medium– basic nibs cost approximately 20-50 cents/12-30 rupees each. If you use them a lot they do wear out pretty quickly, but luckily getting replacements isn't costly or difficult. If you're trying dip pens for the first time I encourage you to take a few different types of nibs so you can see the varied results you can get.
I started out using dip pens with an assortment of nibs and two pen holders. If you don't have a holder, you can tape the nib to the back of a pencil/pen and use it as well, it'll work just fine. For a really luscious, deep black stroke you're better off working with water-proof ink (or India ink). What I personally love about dip pens might just be the same reason many people don't like them — their unpredictability

The ink flow is not constant because you need to keep dipping the pen into the ink and working. Also, since the ink flow is in one direction, you have to get used to making predominantly downward strokes with the pen. If you try going upwards it can get pretty scratchy and the ink might stop flowing altogether. If you can get past these peculiarities, it's a great way to add some surprise and variation to your line work.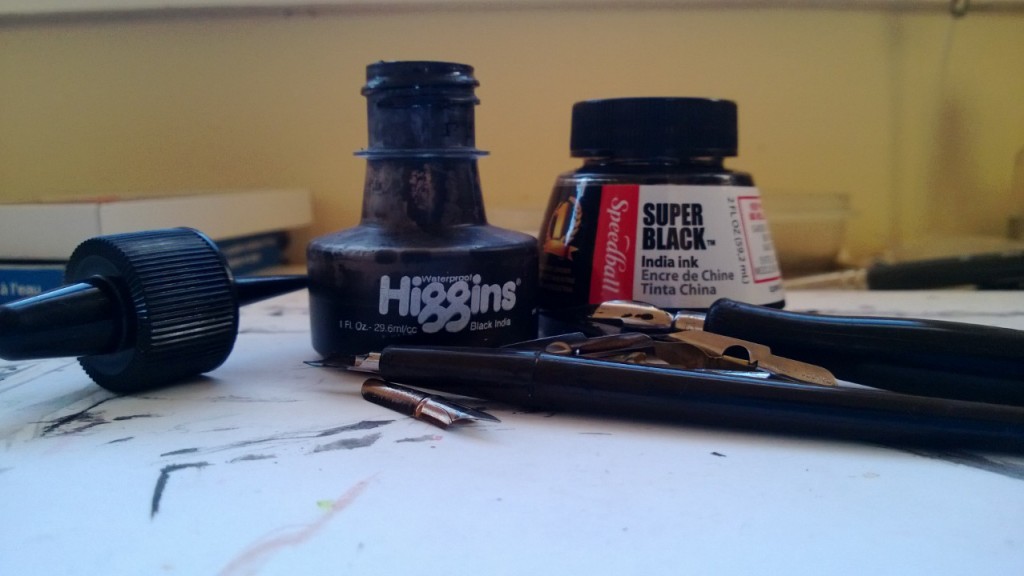 There are broadly 3 types of nibs you will most commonly find:
1) flat nibs ( pic. 1 -left) :  these are typically used for calligraphy because they give a lot of  thin/thick line variation.
2) round nibs (pic. 1 – right): these are mostly used in cartooning, manga etc. because they give an even line.
3) crow quill nibs (pic. 2):  give a very fine line that is used for detailed work or cross-hatching.
From the two pictures above, you can see just how varied the types of lines you can get are. On the left is a quick doodle made with a flat nib. These nibs are my personal favorites because they give lines more life and aren't as one-dimensional as regular lines. They also help to add a bit of quirkiness.
The very fine nibs can be used to give a completely different feel altogether. In the second picture I used the #102 crow quill nib to  do a very loose sketch of some dried flowers I have sitting around at home. You can also use it to add a lot of minute detail because the lines it can make are incredibly fine. You can't dream of getting lines that thin with any kind of regular pen. This particular nib also has a bit of flex, so in one stroke you can go from an incredibly sharp line to a gradually thicker one.  There is so much variation you can get  by the way you choose to use the nibs alone.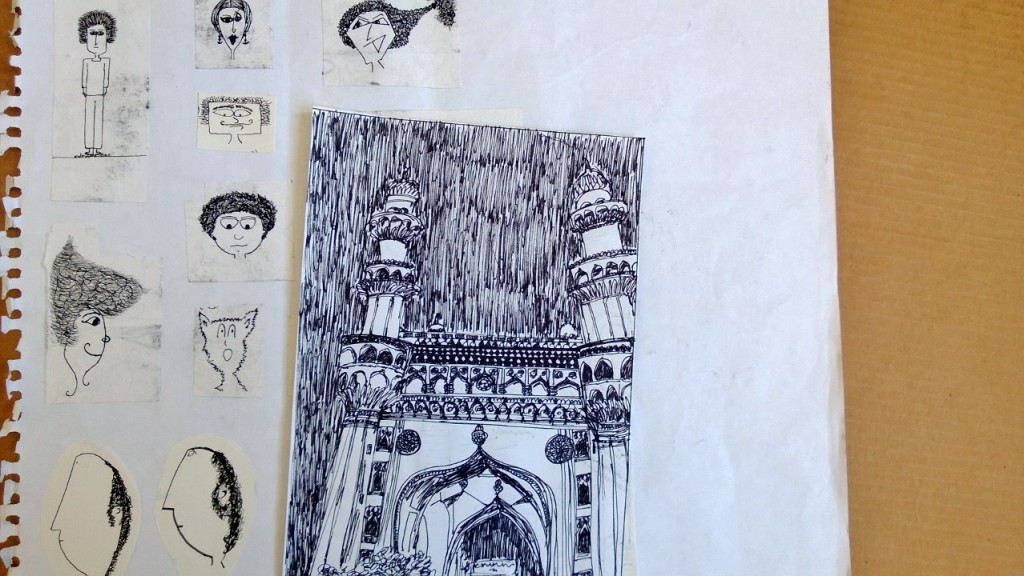 My favorite part about using nibs versus regular ball point pens is the surprising way in which the ink changes course depending on how and when you put pressure. It really feels like a natural extension of your hand. I also use fountain pens that have a little bit of flex in their nib that give similar effects.
The main reason I continue to work with dip pens is because you can use India ink/water-proof ink  with them. Using water-proof ink means that you can go back and add color to your illustrations if you want. It's important to know that this ink is a lot more viscous and thick that regular pen ink. Definitely don't put India ink into your fountain pens, especially if they have a difficult cleaning system; you will ruin them. The ink also hardens very quickly on the nibs when you use it and reduces their flexibility if you don't clean them. As a best practice try to clean your nibs as soon as your done using them. I usually give them a good scrub with an old toothbrush after soaking it in warm water for a while. Make sure you dry them off immediately with a dry towel. The longer you leave the nibs without cleaning, the more the dried ink will clog them up, making them difficult to use.
In spite of the slightly trying maintenance and idiosyncrasies, I think it'll take a long time before I tire of playing around with these nibs and ink. The possibilities are endless, the process is fun, and the results are always unique.