My favourite resource books as a picture book creator
Right now there are so many places you can get advice and help with your creative process as a picture book author/illustrator. From other creators' sites where they  give insights into different techniques and writing exercises, to the grand, old Internet for all those really specific questions that you've been breaking your head over. You know, like a Photoshop tutorial for how to rasterize layers (aaaargh.)
Since the Internet is your oyster, I figure you don't need help with the particulars, but maybe some general resource books will be helpful. I have  some old and trusted resources that I like flipping through once in a while when I feel stuck. I find that helps me a lot. Admittedly, this list is more helpful to those of you who both write and draw because they do focus on the visual side more, but I think authors can benefit from it too. Primarily because the picture book medium at its core is visually rich, which means authors need to learn how to write keeping illustrations in mind.
On first glance, my list may look like required reading for anybody working on a graphic novel, but what is a picture book if not that in it's essence? I'm tempted to say in many ways they have more in common than not. Graphic novels are probably more visually complex and lengthy in a lot of cases, but even what qualifies for one today is changing. The term is used to encompass all sorts of exciting, new work.  Essentially both graphic novels and picture books deal with the inter-play of words and images, which convey different meanings dependent on they way in which they interact with one another.
So, here they are, sitting on my bookshelf  just an arm's length away from my desk. My go-to, evergreen resource books: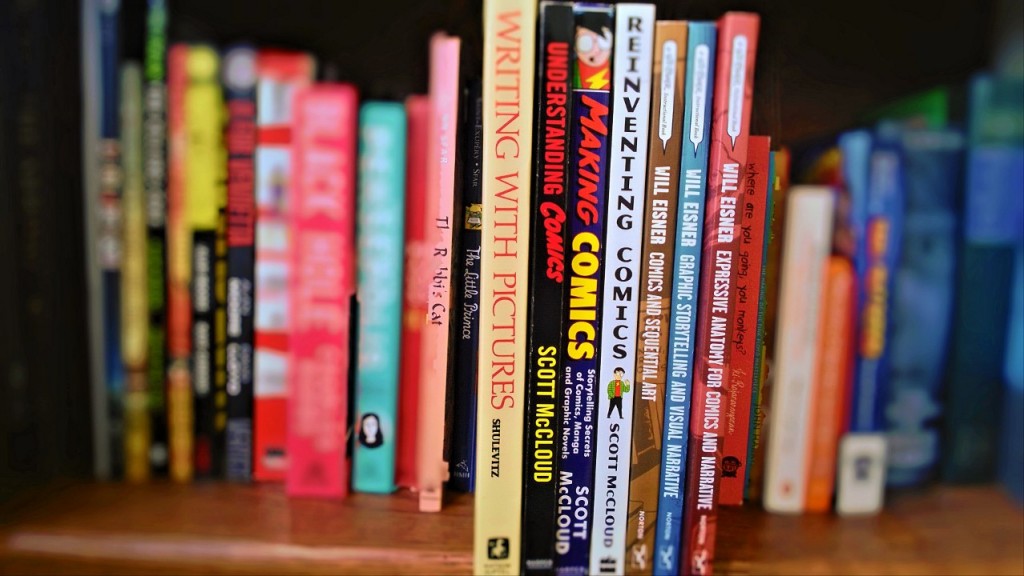 The must-have:
Writing with Pictures: How to Write and Illustrate Children's Books This book is written by Caldecott Award-winning picture book author/illustrator Uri Shulevitz, who explains the basics of writing and illustrating for this medium. It is the gateway to beginning with picture book creation. Even if it is more than two decades old, and some sections of it regarding printing etc. may even seem obsolete, there is plenty that is still relevant and pertinent today. I don't agree with everything he has to say, especially with his slightly stricter definitions of narrative structure and arcs, but overall this is a very helpful resource for anyone thinking about working with picture books.
The Will Eisner Instructional Book Series:
1) Comics & Sequential Art: Principles and Practices from the Legendary Cartoonist
2) Graphic Storytelling and Visual Narrative: Principles and Practices from the Legendary Cartoonist
3) Expressive Anatomy for Comics and Narrative: Principles and Practices from the Legendary Cartoonist
The worshippable Will Eisner, god of all things graphic novel, will surely have some advice that will speak to you. Although a lot of his books are more geared towards the artist, and specifics like body and expression, I personally find it incredibly valuable because I am on a learning curve as an illustrator and really benefit from his drawing exercises.
Scott McCloud's own trilogy that traces and studies the medium like no other:
1) Understanding Comics: The Invisible Art
2) Making Comics: Storytelling Secrets of Comics, Manga and Graphic Novels
3) Reinventing Comics: How Imagination & Technology Are Revolutionizing an Art Form
Probably the person who has had the deepest discussions (philosophical, and otherwise) about just how amazingly complex, compelling and exciting the graphic novel medium can be. You might not ever want to read (or create) a book without pictures again. Touché!
Sometimes, a book you can leaf through, slowly, at your own pace, and ponder over is necessary. You might be looking for an answer, but what you really need is a question — What are you missing? Where should you go from here? That's not something the great Internet can answer. Because they're not really Google-able questions, are they?