Ezra Keats and multicultural picture books
Today is a very special children's book icon's birthday: Ezra Jack Keats's. He  is widely credited with introducing multiculturalism into mainstream children's publishing in the US.
For over 25 years the Ezra Jack Keats Foundation has given an annual award to the best new author and illustrator that represents the "universal qualities of childhood… and the multicultural nature of our world." In fact, this year's winners were announced just a few days ago.  So today  seems especially apt to look back at this wonderful author and illustrator, because what he contributed and represents are the most important elements to me as a reader, lover, and creator of picture books — inclusion and diversity.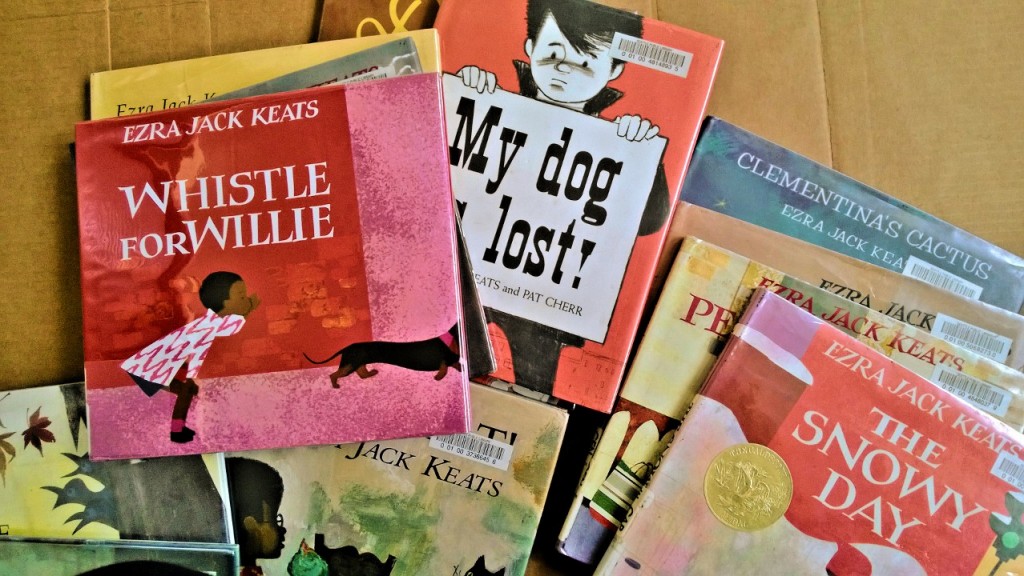 The book that brought  widespread recognition to Keats was The Snowy Day. It is a delightful picture book with an endearing African-American boy (Peter) as its protagonist, who explores a winter wonderland. It went on to win the highly coveted and distinguished Caldecott Award in 1963. Soon afterwards Keats became a noted figure in the children's publishing industry; also known for his inclusion of children from different cultural, ethnic and linguistic backgrounds. Keats' attachment to Peter and the world he inhabits in New York is clear as they recur in later books like Peter's Chair, A Letter to Amy, and Whistle for Willie.
Given that picture books are also a visual form of storytelling, learning and discovery, it is crucial that all kinds of children are able to see themselves in characters and books. Growing up in India, I mainly read British children's books, and neither the characters nor the surroundings related to our daily lives. The experience was much like what Chimamanda Ngozi Adiche describes in her brilliant talk from a few years ago,  The Danger of a Single Story. Those books didn't have children who looked like us. We didn't have blonde hair, or blue eyes. We had dark, brown skin and black hair.
The sheer beauty of Ezra Keats' books is that even though they have diverse protagonists, any child can relate to his stories. He succeeds in poignantly expressing the vulnerabilities that children face like loss, change, and making friends. At their emotional core the stories are deeply moving and universal.
One of my personal favorites is his very first book, My Dog Is Lost, which he co-wrote with Pat Cherr. Its main character, Juanito, who is Puerto Rican and speaks only Spanish, has just moved to New York. But within a day of arriving, he loses his dog. Keats tenderly takes us through Juanito's journey to find his dog Pepito, addressing emotions of fear, anxiety and loneliness. Juanito encounters children from Chinatown, Little Italy… everyone  joins in the search to find Pepito. Finally, the mystery of the missing dog is  solved across cultural and linguistic divides and, in fact, bridges their differences. New York wasn't so scary and lonely after all. Its a lovely read; I highly recommend it.
Clementine's Cactus, one of the last book Keats did, is fantastically different from the rest of his work. For one, it is the only wordless picture book he made. Many of his stories are set in New York, and are highly evocative of the place, with lovely mood and atmosphere (The Trip, Apt. 3, among others.)  Clementine's Cactus on the other hand has a girl protagonist, is set in the New Mexico desert, and focuses on a young child's natural curiosity. But no matter what background Keats gives his characters, the emotions that each one expresses is common to all children.
Yes, The Snowy Day has a black protagonist. That was novel and path-breaking for its time. But what is truly novel about it, even today, is that the race of the child is just incidental. Keats makes you feel like it is normal for Peter to be  in the story. It's not  special, or unique. It's a child simply experiencing the magic of snow.
Children's publishing, now more than ever, needs these kind of books. It should be as natural to encounter a brown child with black hair as a fair child with orange hair, and be captivated by their stories.
Happy birthday, Ezra Jack Keats. And thank you, so very much.
Ezra Keats' books on Goodreads
Related Posts
Tags
Share This