The (re)cycle of life and art
Our household gets a lot of cardboard and brown paper bags. From deliveries to packages, there is no dearth of us running down and up, to and from the recycling bins in our apartment complex. Given that I'm already obsessed with not wasting paper, and working on pieces and scraps till I have no white space left, it was only a matter of time before I decided to give cardboard a go.
It makes complete sense. I don't need to buy more paper. You can use any form of dry or wet media on it since it it's thicker than most papers and much cheaper than using canvas. Well, free actually in this case. And I love the rough texture and color; it makes for a more interesting base to work with. Why didn't I think of this sooner?!
So I decided to flatten up a box that arrived yesterday. It brought a surprise delivery of  the latest book by  one of my favorite illustrators, Quentin Blake.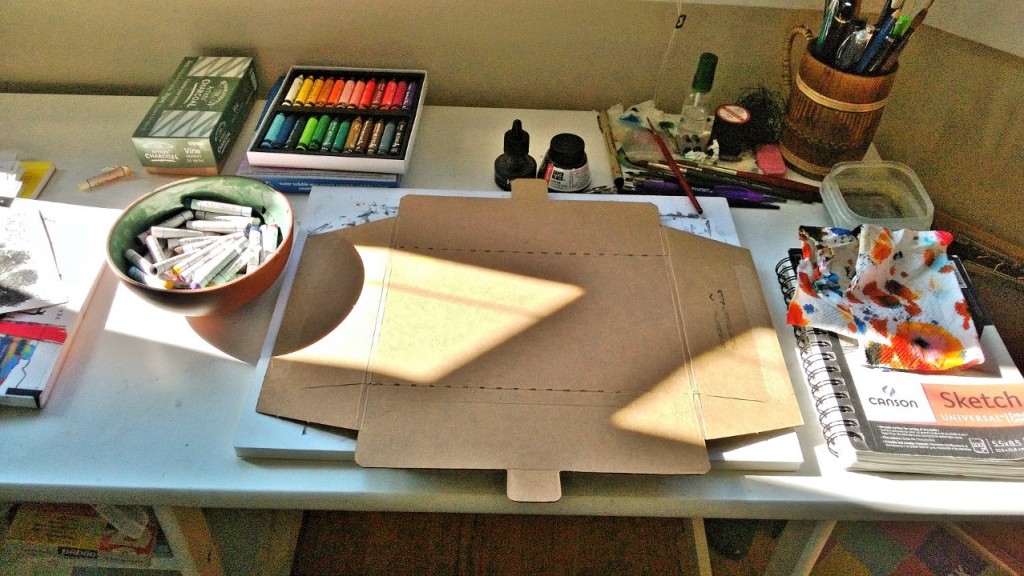 Just as I sat down at my desk, the sun decided to arrive. In the first week of March? In Seattle? That certainly doesn't happen every day. So delicious! I took that as a cue to get started, and grabbed some cheap oil pastels I had lying around. Yellow, of course.
I'm going to work on this some more, and have a follow-up post with whatever comes out of this little experiment. I'm already brewing up a story too.
But it's nice to think that a box that brought art home, will soon become art itself.