Diving right in
I've always been critical about my drawing skills. I've questioned every perfectly good idea I've had. And stopped myself from just trying something out. Panic-stricken and drowning before I even get my feet wet properly.
So now, as an exercise, I force myself to draw as soon as I sit down at my table. Before I have time to think, and stress over, what. Run over lines if I have to. Make mistakes. Feel free. Be messy. And not afraid.
I didn't set out to draw these images today. I have no idea which recess of my brain it crawled out of. When the critic isn't whispering in your head in a thousand voices, your mind, and even  your hand can surprise you.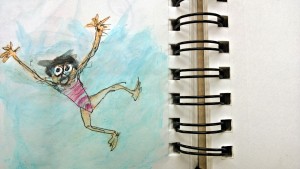 This letting-go takes some getting used to. I still struggle with it.  Much like learning how to swim.
But at least I'll finally be able to enjoy the water.
Maybe, there's even a story here.